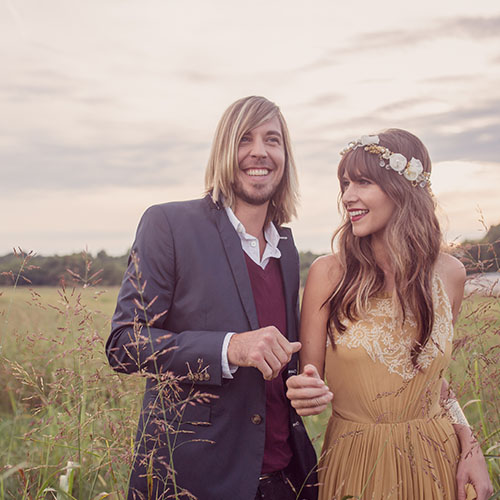 Music
Only Your Love
Make A Way
Beautiful
Husband and wife Ben and Amy Davis are Davis the Band, a worship duo passionate about ministering to the Lord, the Church and sharing songs of victory and hope. Each song on their debut EP, Only Your Love, represents a very specific journey that they have walked with the Lord and with one another. Out of moments of personal worship, times of declaration and the struggles that life throws at us, these songs, God has personally written into their life.
Although this year's release of their long awaited album may look like the beginning, it's definitely not. Both prolific musicians from a young age, their stories collide when Ben meets Amy on tour during one of his early musical ventures in 2002…a rib-tickling story that can only be told in person.
Ben moved from Pennsylvania to Nashville at age 18 to begin his professional music career.  In 2001 after two years at Trevecca Nazarene University, he became one of the founding members of the Christian band By the Tree ("Beautiful One"). The band went on to tour 250 dates a year, release 6 records, and win a pair of Dove Awards. It was during this time that Ben met Amy.
Amy, an emerging songwriter and farmer's daughter from North Dakota originally met Ben late in 2002 when his band was on tour with the Newsboys (Thrive Tour). Having high interests in fashion and writing pop music, this 18-year-old girl was determined to take her local notoriety to the next level. By 2004 under her maiden name, "Amy Blotter" had moved to Nashville, written and recorded her first independent pop record titled "How Do You Make Me Feel" (released 2005). Ben played bass on Amy's record and it was during this reunion season that the two quickly began to realize how enamored they were for one another.
In November 2005, Ben and Amy were married. Amy continued songwriting and Ben stayed busy on the road playing bass and singing background vocals for artists Michael Tait, Plumb, Steven Curtis Chapman, 33 Miles, Britt Nicole and "American Idol's," Jason Castro among others.
The young couple often dizzily had to learn how their marriage would grow while being apart so much. Often blazing their own trails in life, they were determined to create ways to find growth in their marriage, careers and callings. God had His hand on each of them, preparing them. What may have seemed inevitable was not always so clear to them. Both on separate musical paths, it wasn't until a few seasons later that Ben and Amy felt a call to worship music…TOGETHER.
In 2009 God began to move rapidly giving Ben & Amy an allied desire to lead worship co-led, alongside one another. Songs began to pour through Amy during times of personal worship to the Lord. Some made their way to Grace Church Nashville where their Pastor Lindell Cooley's extraordinary passion for raising up worship leaders was found to be kindred and contagious. Having no intention of making a record, churches, conferences and events across the country suddenly began requesting Ben and Amy to come lead, share, work with musicians and even teach on worship. So, entirely reversed from any typical artist-launch Ben, Amy and the rest of their band began touring even before embarking on any sort of record making process. Then in 2010 on a long drive back from a worship event TX, God turned the page, set wind in the sails of everyone on board and "Davis the Band" was finally born.
Not knowing it would stretch to almost 5 years until their release, "Davis the Band" embarked on an expanding season learning to trust God's timing. In 2011 Ben began touring with artist Kari Jobe playing bass and working as her musical director later in 2014. Amidst the cognate leadership of Kari Jobe and Lindell Cooley in their lives, God couldn't have placed Ben & Amy in a better position to prepare them for where He was taking them in ministry. In 2013 Amy and Ben wrote a song with Kari Jobe and Jason Ingram that was recorded on Kari's Dove Award-winning record, Majestic (Live). That song, "Only Your Love," is now the title track of Davis the Band's debut record.
Coinciding with the time it took to release their first EP, Ben & Amy were faced with a long heart-wrenching walk of faith and trust. In 2011, news of infertility absolutely shook them. But what the enemy meant for harm, God began rapidly using in ways to glorify Him. Even foreshadowed, the song "Victory" was written before any knowledge of this battle. While writing, Amy felt the voice of the Lord say to her, "If you write this song, you're going to have to walk it out in faith." Apprehension quickly overtaken by assurance, they finished the song trusting God that He would guide them through "the fire." And what had come as a trial, now birthed a vision.
Davis the Band sings these songs as a proclamation of the Hope that is in them, still believing God for the things unseen and the things He has promised. And with the 2015 release of their very first EP Only Your Love, Davis the Band drives a stake into the ground trusting their trials to be God's divine purpose. From these real-life struggles come the mission and the vision for the band as so easily heard in "Make a Way," a song that brings hope to the heart with every word. "Whether on a mountain-top or valley, whether a hope fulfilled or yet un-fulfilled we will lift our hands," says Ben, "and declare with our voices the goodness and mercy of our true and most-worthy God."