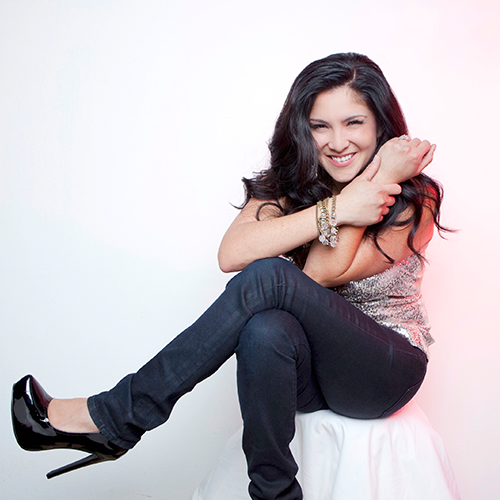 Music
Un Lugar Celestial-A-Heavenly-Place
On My Knees
Adore
Videos
Watch
"Un Lugar Celestial"
Music Video
Jaci Velasquez Biography
There's nothing like life experience to take an award-winning artist to a whole new level of creativity. Just ask Jaci Velasquez. Much has happened since she first burst on the scene as a fresh-faced teenager possessing an emotionally-charged voice that breathed life into such hits as "Every Time I Fall" and "On My Knees." These days she's a multi-tasking singer, songwriter, actress, radio personality, wife and mother of two adorable young sons, yet at the core there remains that passion to serve God with the gifts He's given her.
The title track of her most recent solo collection, Diamond, is appropriate for Velasquez. Just as pressure, depth and intense heat lead to the formation of the world's most precious gem, Velasquez's artistry has been shaped by pressures of early success, the unrelenting glare of the spotlight and her unyielding desire to serve God even as He was shaping the young artist. "It's interesting how things evolve," Velasquez says. "You evolve as a person, and all the stories that happened when you were younger, you still could tell them, but you view them differently. I look at everything differently now.'
Even though she's barely out of her 20's, Velasquez is a seasoned artist who brings nearly two decades of experience to her latest venture. She's won seven Dove Awards, including new artist of the year in 1997 and two consecutive female vocalist titles. She's scored hits on both Billboard's Christian music charts and Latin charts. She's starred in films and appeared on more than 50 magazine covers. On Diamond she still possesses the youthful exuberance that Christian music fans fell in love with early in her career, yet has matured as an artist and a woman. That maturity resonates throughout the songs on Diamond.
Velasquez even took a different approach in the recording process, enlisting sax player/producer Craig Swift and keyboardist/producer Chris Bevins to work with her on the project. Both are in the band Salvador with Velasquez's husband Nic Gonzales, and are family friends. Recording the new album was a much more relaxed process and along the way it reminded her of why she fell in love with music in the first place. "We all are friends on a personal level and I made the choice to surround myself with those people," she says of her producers. "We're investing in each other because we're friends outside of success, music and any of that. It definitely reminds me of how it felt to be a new artist. When the first single 'Give Them Jesus' played on radio the first time, they both started texting and calling me. They were so excited. It was a rebirth in me, looking at it from another person's perspective. It's something that I got to experience when I was a little girl and I didn't become numb to. They say, 'you are only a new artist once', but because I am working with Chris and Craig, I get to see and feel like a new artist all over again". On Diamond, Velasquez reveals her considerable gifts as a songwriter, writing or co-
writing on nine of the album's 11 tracks. She found the songwriting process exhilarating. "It's like a rebirth," she sighs. "I don't think I ever lived until now."
The title track encapsulates where Velasquez is at this point in her life. "I wrote that after my kids were born," she says. "I look back at the past and I look at the future and I say, this is what life is about! God can make anything!" she says. "He can take a stone that nobody cares about, chip, chip, chip away and find something beautiful in all the rubble. Sometimes the flaws in the diamond are what make it sparkle the brightest."
The album's lead single, "Give Them Jesus" is among Velasquez's favorites. "When I talk to my children and when I invest in them, I pray that the legacy I leave behind will inspire them to show Jesus to others," she says, "and that they will be that light in somebody's life, whether it's big stuff or small stuff. We all can't take mission trips, but giving Jesus to people isn't always running across the world. It's showing love to those around us, smiling at a stranger."
"Stay" is an engaging tune with a jazzy feel that beautifully showcases Velasquez's ability to convey every drop of emotion in a great lyric. "My kids and I were watching a Dora The Explorer episode and in the cartoon she tells the kids to make a wish, so I leaned over to Soren and I whispered in his ear, 'My wish is that you'll never grow up. You'll stay my baby forever, ever and ever,'" Velasquez says, expressing every mother's bittersweet sadness at how quickly childhood passes. "I was looking at him and I realized that day will come when he will leave me for another woman. He's going to tell me those words—'I have to go. I can't stay with you and dad forever.' That will happen. He's going to start his life and his journey. I'm still going to be wishing that he would stay and never leave me, but he will. When they are babies, you sometimes take for granted that tomorrow they are going to wake up and want milk, but then at some point, they are gone and you just wish that they could stay."
Diamond also includes "Con El Viento A Mi Favor," a beautiful song with a majestic soaring chorus. "I love that song," she says. "The title means 'with the wind in my favor.' It's about how so many times I felt lost and scared and crazy, but with Your love, and with You, I walk with the wind in my favor knowing that all things come to those who wait. It's a beautiful song."
"Guilt" is a song Velasquez penned that is sure to resonate with working parents. "Any parent can relate to having guilt," she says. "My kids are two and three-years-old and daily I feel guilt that I'm not doing enough, that I'm not spending enough time. Am I really engaged when they want me? My kids aren't in pre-school. They aren't at daycare. They are with Nic and me 24 hours a day, seven days a week. All too often we tend to say, 'Gosh, I'm such a bad mom. I'm such a bad wife' and yet we know the truth. The truth is in Christ. With Christ there is nothing that we need to feel guilty about. He took that with him to the cross and yet we continuously crucify ourselves."
These days, Jaci Velasquez is busier than she's ever been. Shortly following the release of "Diamond" was a digital release of "Jaci Velasquez-Acoustic Favorites EP which organically showcases seven of her biggest hits. To add even more flavor to the feast of albums delivered during 2012, Fisher Price teamed up with Velasquez for a release of "Buenos Noches Mi Sol", a Spanish lullaby album that can be found in Wal-Marts, Targets & Toys r Us' across the country. Since the last quarter or 2011, Jaci has been rolling up her acting sleeves by being featured in five faith-based films.
Every morning, Jaci wakes up at 4am and is heard by more than 1.5 million listeners as the co-host of Salem Broadcasting's syndicated network show, "Your Family Friendly Morning Show With Doug & Jaci Velasquez" on 94FM The Fish. Of course, the roles nearest to her heart are being a wife to Nic and Mama to sons Zealand and Soren.
This is a frantically busy, yet extremely sweet time in the life of a gifted artist that has grown up under the gaze of her audience. "I've learned that I know absolutely nothing, and yet I've learned so much," Velasquez smiles when thinking about the past few years. "I've learned that my marriage is key. . . and also the love that I have for my children. It bubbles up inside of me and it overflows like crazy, like a waterfall. I imagine if I love them this much, then how much does Jesus? And God? How much do they love us? We get a small picture of it on this earth. That's really what I've learned from my family."
For Jaci Velasquez, it's been an incredible journey that coalesces in the music on "Diamond". Like that of most precious of stones, Velasquez continues to shine, reflecting God's grace and mercy through her music and her life.