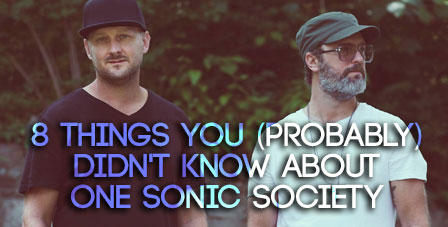 Think you know One Sonic Society? Or are you just showing up to the party? As they're releasing their brand-new single, "A Billion Stars," get to know this powerhouse worship duo.
1. They're a supergroup
Yes, they're officially down to only two members, but even those two members are super by themselves. Producer/songwriter Jason Ingram joins Aussie producer/drummer Paul Mabury for some serious musical/hit-making chops. Previous members include guitarist Stu G (formerly of Delirious, currently of The Beatitudes Project) and another former Delirious player, bassist Jon Thatcher.
2. Jason Ingram is behind a lot of songs you know
The lead singer, who got his start as a solo artist, and then leading a band called The Longing, is best known as a Grammy and multi-Dove Awards nominated producer, working with just about everybody, including Chris Tomlin, Tenth Avenue North, Amanda Cook, Bethel's Brian and Jenn Johnson, Lauren Daigle, Aaron Shust and more.
3. You've heard Paul Mabury's drums before
That's because Paul is known throughout Christian music for his work laying the beat with Hillsong United. Now, he's one of Nashville's most in-demand drummers, who also produces, handles electronic programming for tracks, and writes songs, too.
4. One Sonic Society is the biggest worship band you don't know
The group, while not possessing the name recognition of Hillsong, Delirious, Bethel or All Sons & Daughters, has had several of its recordings make the Billboard charts, including their first-ever Top 5 Christian Airplay song, the recently released cover of "Great Are You Lord." Other charting songs include "Never Once" (No. 28 on Hot Christian Songs, made popular by co-writer Matt Redman) and "Forever Reign" (No. 17 on Hot Christian Songs, which Ingram wrote with Hillsong Worship's Reuben Morgan). New single "A Billion Stars" already is coming in at No. 46 on the Christian Airplay chart.
5. They've released six projects already
If you're just starting to discover One Sonic Society, you've got some catching up to do. The band made its debut in 2010 with its first EP, titled One, followed by subsequent EPs Sonic and Society–which all led into their debut LP in 2012, Forever Reign. Their first (and only) live album, Live from the Tracking Room, came out in 2012, and the Make A Way EP hit stores in 2015. New single "A Billion Stars" kicks off the next season (and new project?) for the band.
6. Every song they've released was at least co-written by the band
Songs like "Great Are You Lord", "Forever Reign", "Even So Come", "How Can It Be", "Lay Me Down" and "Never Once" may have been made popular by other bands, but Ingram has co-writing credits, and is putting those to use with One Sonic Society's special take on each tune.
7. They give away a ton of their songs' lyrics and chords to resource worship leaders
Via their record label, Essential Worship (part of Provident Label Group), they currently have 34 different songs available for worship leaders (or anyone else wanting to play their songs), featuring chord charts, Spotify and Planning Center links, song story videos, tutorials and more. Check it out here!
8. They have released a new single…
…and you haven't heard it anywhere else, by any other artist (yet). Latest single "A Billion Stars" is a grander, bolder re-introduction for the group to the larger worshipping world, as the song was written just for the latest chapter of One Sonic Society.
READ FULL ARTICLE HERE
SOURCE: NEWRELEASETODAY.COM Hathcock, Marcus. "| | NewReleaseToday." Christian Music, New Christian Music – NewReleaseToday. New Release Today, 29 May 2017.